About Mariéme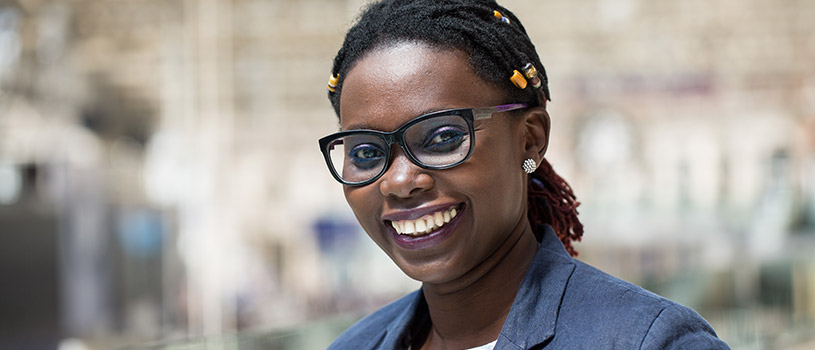 Short Bio
Mariéme Jamme is an Award Winning Technologist. In sept 2017, she won the Innovation Award at the Global Goals Award 2017 by UNICEF and the Bill and Melinda Gates Foundation as a GoalKeeper for her work in advancing the United Nation Sustainable Development Goals. Named on the Powerlist 2017 of Britain's 100 most influential people of African and African Caribbean Heritage, Mariéme Jamme is a Senegalese-born British businesswoman in technology. Her consultancy company Spotone Global Solutions helps technology companies to set a foothold in Africa, Europe, the Middle East and Asia. She has supported and advised many organizations such as Google, Ernest and Young, Microsoft, UN Women, Legatum Institute, HSBC Private Banking, The Office of Gordon and Sarah Brown, The Africa Progress Panel chaired by Kofi Annan, The Obama Administration, DOW Chemical, Unilever and multiple African governments. Often called the diplomat of technology, Mariéme was also named twice in 2014 and in 2016 as one of the 100 most influential Africans by the African Business Magazine and as 2012 Forbes 20 youngest powerful women in Africa. Marieme newly became Advisory Board Member of Data Pop Alliance, a global coalition promoting a people-centered Big Data revolution and a judge and Academy member of the Prestigious Global Teachers Prize Academy. Marieme was honoured as a Young Global Leader by the World Economic Forum for her activism work in empowering and investing in young women and girls in Africa through Creative learning, entrepreneurship, science, technology, engineering, art, mathematics and Design (STEAMD). Co-Founder of Africa Gathering, one of the leading platform in Europe that enable businesses, governments, investor and entrepreneurs to share ideas about Africa for positive change, she also recently joined forces with a group of African leaders to create Accur8Africa, a new platform aiming at enabling governments, businesses, entrepreneurs and the civil society in Africa at measuring the success of the Sustainable Development Goals by 2030 with Accurate Data. Marieme's latest venture includes the launch of IAMTHECODE, as the first movement aiming at mobilising governments, businesses and investors to support girls and young women in STEAMD (Science, Technology, Engineering, Arts, Mathematics, and Design). Her goal is to empower 1 million young women and girls globally to become coders by 2030 and to align with the United Nations 2030 Agenda. Marieme is the newest board member of the Web Foundation. She will be supporting the Foundation in the area of gender and digital equality. Marieme is the first black woman to be named and invited to be part of the UBS Group Global visionaries program.
Extended Bio
A regular speaker at Women of the World (WOW), Unilever, Dow Chemical recently named as one of the 100 most influential Africans of 2014 by the Africa Business Magazine, and Forbes Magazine, Mariéme Jamme is a Senegalese born-British businesswoman, who ran a technology consultancy business in London, her company Spotone Global Solutions helps International tech companies selling enterprise software solutions, to set a foothold in Africa, Middle East, and Asia. Marieme is best known for her role in promoting technology, good governance, transparency and a better education standard in Africa.
Mariéme grew up in rural Senegal, from an oligarch mother who gave her away at an early-age and later was raised in various foster houses including in an orphanage and then trafficked as a young prostitute to Paris. She experienced considerable hardship during her childhood and did not have a formative education until the age of 16 years old, when she taught herself how to read and write.
She is an autodidact, coder, blogger, tech and education activist who work tirelessly to empower her fellow Africans through education, empowerment, mentoring, leadership and economic development. Mariéme was also named one of Forbe's '20 youngest power women in Africa 2012', nominated by the guardian African community network as one of the African women to watch in 2013 and recently honoured as a Young Global Leader by the World Economic Forum in Davos. Mariéme has founded many ventures aiming to support the development of Africans such as the "Cheetah Accelerator" (A mentoring and Business Accelerator) and founded of Africa Gathering, a platform bringing entrepreneurs and others together to share ideas for positive change in Africa. She was recently voted one of Africa's top 25 women achievers by The Guardian Newspaper in the UK". Mariéme has recently supported many organizations such as Google, UK government Appfrica International Inc. and the Obama Administration in the USA for 3 years in organising the Apps4Africa tech competitions across Africa and the Africa Progress Panel chair by Kofi Annan to host brainstorming events on the state of the Extractives of Africa and Agriculture in many countries by bringing the Report to the grassroots.
Having fought hard as a young girl in Africa for an education that was denied to her; women's education, empowerment and freedom is paramount in Mariéme 's life, hence the creation of the JJiguene Tech Hub in Senegal: the first women Tech Innovation Network supporting young women in Science, Technology, Engineering and Math's (STEM). Mariéme has recently joined the Nigerian Billionaire Tony Elumelu as a select committee member and adviser for his $100M Entrepreneurship Program and the Microsoft 4Afrika as a council member advising on how to engage the youth in Africa's development and increase their competitiveness in the global market by creating profitable SME's. Mariéme is a regular technology writer, judge, advisor in many global tech competitions, and a contributor at the Guardian, Huffington Post, the BBC, the Africa Report and CNN. A Highly demanded speaker for her straight and passionate way of engaging an audience, Ms. Jamme recently spoke at the World Affairs Council in San Francisco to an audience of over 900 people about Africa, Entrepreneurship and Technology.
Get in touch
More on Marieme here: www.mariemejamme.com
Company website: www.spotoneglobalsolutions.com
Africa Gathering: www.africagathering.org
Accur8Africa: http://accur8africa.com/
iamtheCODE: http://iamthecode.org/
Twitter: @mjamme