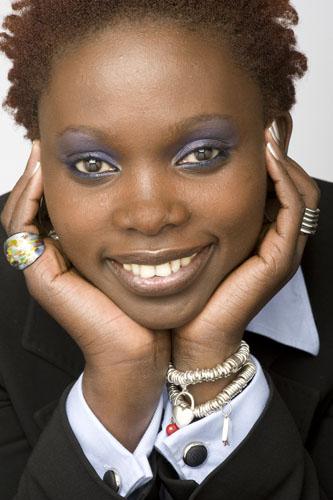 Senegalese-Born Mariéme Jamme is a London-based CEO, blogger, technologist and social entrepreneur with a passionate commitment to helping empower her fellow Africans through the promotion of education, good leadership, social entrepreneurship and economic development. She began her professional life as an asset manager at Citibank, JP Morgan and Lloyds TSB and in various software companies such as Primavera INC (now Oracle), Microsoft, Osiatis and Computer Associates.
But her focus soon began to shift to the continent of her birth, and in 2000, she became the CEO of SpotOne Global Solutions, a UK-based company that helps IT organizations (Editors and Software Vendors) gain a foothold in Europe, the Middle East, Africa and Asia.
She went on to found Iconscience, a think tank uniting business experts and like-minded individuals in a friendly atmosphere to brainstorm ethical scenarios for sustainable business, social, technological and environmental development in Africa.
Mariéme is also a co-founder of Africa Gathering, the first global platform bringing together entrepreneurs and others to share ideas about development in Africa. Africa Gathering has already held successful events in London, Paris, Washington DC, Nairobi and Kampala.
A frequent attendee of TED Conferences and organiser of TEDx Accra and Dakar, Mariéme has spoken at various conferences around the world on different issues, but always with an eye on Africa. She has also used her knowledge of African dialects and languages to facilitate communication, working closely with local communities, businesses, investors and governments both inside and outside the continent. These efforts have enabled her to forge a reputation as an advocate for African development in a number of areas: education, governance, healthcare, poverty, the role of women, sustainable development and new media & technologies.
Mariéme recently helped Google, UEMOA, IBM and Shell to organise strategic conferences in Africa.
Recent appointments and activities:
• She advises and supports many women and children's charities such as the NSPCC, Oxfam, Plan International, the White Ribbon Alliance, the Gates Foundation, the Acumen Fund, Weforest, Cancer Research, the Hunger Project, and the Freedom Project.
• A consultant to the UK Home Office on how to help members of the African Diaspora transfer their knowledge and skills to their countries of origin and a mentor for black youth in London as part of the Mayor Mentorship program.
• A member of the advisory panel of the Guardian newspaper's global development section, for which she now contributes articles.
• A judge for Africa Rural Connect, a programme of the US National Peace Corps based in Washington DC that pools ideas aimed at meeting the needs of African farmers.
• Discussions with the US State Department on how Africans are using social media.
• A Board member of Free Generation International, an organization fighting human trafficking and slavery.
• A Board director of the Hive Colab in Uganda, a business accelerator and incubator for East African technologists.
• A key organizer for Apps4Africa, an annual contest aimed at finding innovative technological solutions to everyday problems affecting all aspects of African life.
• Also in 2011, Mariéme talked at a fringe meeting of the UN Climate Change Conference in Durban.
• She recently appeared on BBC Radio 4's Start the Week programme alongside Jeremy Paxman to discuss the impact of the British Empire on African development.
• Named by CNN as one of Twitter's top ten African voices on technology development.
• Featured by CNN as one of the African Voices
Mariéme is a mother of one child who is now 11 years old.